Fun Resident Events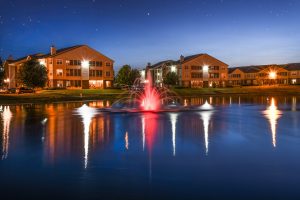 We enjoy treating our residents and showing how much we appreciate them.  We love hosting a number of different events each moth for our residents. July ended with popsicles and ice cream and August started with a Luau for our residents.  The Luau was held out by our pool with leis, lots of good food, games and fun in the pool.  We offered pulled pork barbecue, potato and pasta salads, cup cakes, cookies, lemonade and ice tea.   Some of the games included yard zee, ladder ball, corn hole and Washoe.  It was a hot, sunny day with a beautiful breeze.  Lots of residents and their families and friends joined in on the fun.  A good time was had by all!
On August 16th, at our monthly drive through dinner, our residents enjoyed grilled chicken breasts with baked beans, corn on the cob and fruit.  At our monthly drive through dinner, our residents are welcome to pull up to the front door, and we will come out and take their order and fix their dinner to go so that they can go home after a long day and relax.  We have many residents that will come in the Club Room and Arts Room and eat their dinners and visit. This is a nice way for new residents to get acquainted and join our large family!  We have many regular participates that enjoy this home cooked meal.  Come in September 15th for our Potato Bar.  Enjoy a warm potato and go crazy adding toppings!  These events have given us an opportunity to see what great chefs we have as a part of our staff. 
Drive through breakfast, once a month, is another big hit!  Whether it be sausage, egg and cheese burritos, muffins or bagels, it's a great way to start your day.  Just drive up under the portico and we will get your order filled and have you on your way.   If you have the time stop in for a cup of coffee to go along with your breakfast. This is a great way to start your day and for us to say thanks for being a part of our Foxfire family!
We always have freshly made popcorn in the lobby and usually fresh baked cookies in the Club Room.  You will generally find cold lemonade and ice tea as well as coffee at the coffee bar.  Come on in and see us; we will treat you like family!